Global Fishery Forum & Seafood Expo Russia
6-8 July, Saint-Petersburg
24/07/2019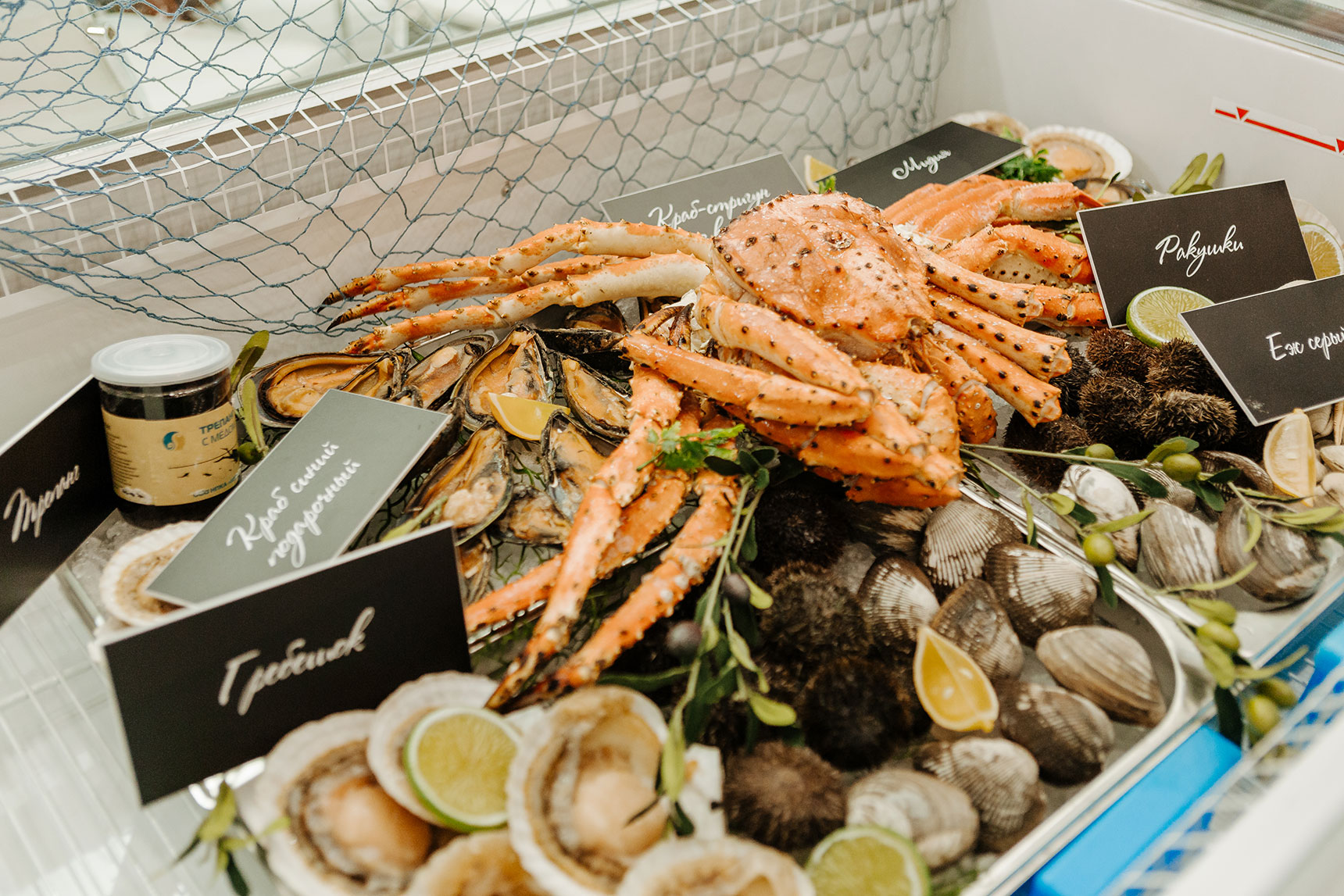 In the course of the III Global Fishery Forum and Seafood Expo Russia which took place on July 10–12 in St. Petersburg, about 200 fishing and fish-breeding enterprises from all over the country showcased the diversity of fish and fruits of the sea caught or grown in the Russian seas and rivers.
The major fishing regions, such as the Primorsk Territory, Murmansk, Arkhangelsk, Kaliningrad, Astrakhan, Rostov, Tyumen and Leningrad Regions, the Republic of Tatarstan and the Yamalo-Nenets Autonomous District, exhibited the achievements of their fishing businesses at combined exhibit booths. Enterprises from 35 regions of the Russian Federation took part in the exhibition.
Traditionally, the most diverse range of fish products was brought by Far Eastern enterprises. For example, the legendary sardines-iwashi and Olyutor herring in a variety of fills produced under the "Russian Fish Factory" brand by Antey were featured in the exhibition. Asia-Pacific Fishing Company demonstrated frozen scallops, sea cucumbers and mussels. Various types of Far Eastern shrimp under the "Boss Crevetos" brand were presented by Triera.
Enterprises from Novosibirsk and the Yamalo-Nenets Autonomous District shared the Tyumen Region's combined exhibition booth. Kamshat, one of the leaders of the Siberian Region's fish industry, presented frozen semi-finished products, caviar, dried and salted as well as cold and hot smoked fish.
Kupinskii Rybokombinat pleased visitors with a large range of products made of wild freshwater fish caught in Lake Chany including such species as carp, crucian, pikeperch, bass, ide and roach. Orion, a fishing cooperative manufacturing products under the "Yamalik" brand, brought to the exhibition canned fish and semi-finished products made of whitefish and staple fish species caught in Yamal' cleanest rivers.
Salekhard combine presented deeply processed products made of delicatessen northern fish. Its product range consisted of more than 170 items, including canned food, preserves, salted, dried and other types of fish products.
Tatarstan successfully performed in the aquaculture segment. Biosphere-Fish, a company producing young sturgeons and seeding material, presented a mock-up showing its fish-breeding facilities featuring water recirculation systems and a specialized wintering shop allowing to prepare fish for reproduction and produce mature caviar and healthy fry.
The exhibit racks of the Astrakhan Region's enterprises showed the entire diversity of inhabitants of the southern Russian waters, in particular, those of the Volga-Caspian basin. Astrakhan canned food production company, Chelyuskinets, Fabrika Vesna and Gustera-2 presented products made of the Black Sea sprat, wild and common carp, sheat-fish, bream, bass, silver carp, pike, asp, roach, red-eye, perch, tench as well as Caspian herring, chum salmon and sturgeon.
The Rostov Region as Russia's leader in commercial grade fish breeding showed the guests of the exhibition the products manufactured under "Fish Factory Donskoy" trademark. The company's production facilities feature a top-of-the-notch system enabling the high level automation and mechanization of its air and sun drying production processes which is unrivaled throughout Russia. Its booth's exhibition displays featured squid cut into chips, threads, strips and rings, dried straws made of pike, sheat-fish and pink salmon, salted dried pollock and smelt and sun-dried bream and roach.
Petrotral, a St. Petersburg-based fish-processing company, presented a wide range of natural hot and cold-smoked products made of sprat, capelin, mackerel, cod, Baltic and Atlantic herring. The processing of its fish products involves the use of alder sawdust which enables preserving the natural taste and healthy properties of the resulting output.
Baltic Coast, another company from the northern capital, brought to the exhibition a variety of canned products such as salted, simulated and sauced caviar, cod fish oil and pastes, preserves containing herring fillet, oil-packed, pickled and sauced shrimp, mussels and squid, spicy pickled anchovies, sprat and capelin, delicatessen anchovy snacks and laminaria. The guests of the exhibition could also see salted Pacific and Atlantic herring as well as cold and hot-smoked mackerel, capelin and Baltic herring.
The Arkhangelsk Region traditionally presented the riches of the White and other northern seas such as cod, haddock, halibut, wolffish, perch, flounder, Atlantic herring, mackerel and capelin. Various types of deeply processed products made of those species were exhibited by the region's major enterprises being members of the North-West Fishing Consortium (SZRK).
The Kaliningrad Region's exhibition booth featured a wide range of canned fish products. Natural high-quality canned food products made of sprat, mackerel, herring, pilchard sardine, blue jack mackerel, sardinella, saury, tuna and cod liver were presented by such enterprises as Roskon, Bars, Korat, Za Rodiny, Westrybflot and others.
The III Global Fishery Forum and Seafood Expo Russia took place on July 10-12 in St. Petersburg. 335 companies from 35 regions of Russia and 25 countries of the world shared the exhibition space. About 10 thousand people visited the events.
SEAFOOD EXPO RUSSIA 2019 was operated by Expo Solutions Group, a full-service exhibition company.