Global Fishery Forum & Seafood Expo Russia
October, 17-19, 2023, Saint-Petersburg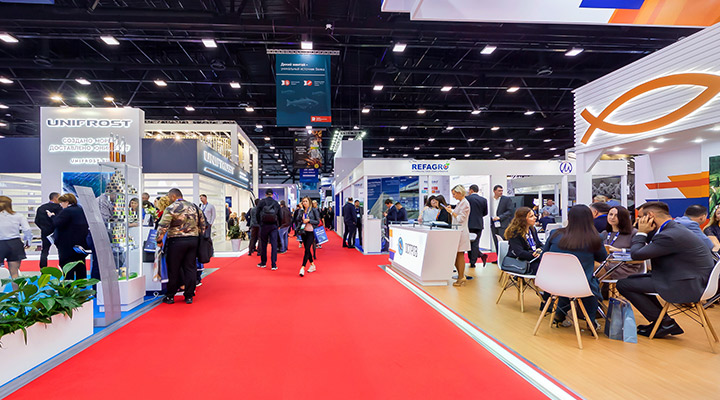 Annual place of meeting of Russian fishery industry: 400 companies from 40 Russian regions and 25 countries
Broad visitors' geography: 7120 specialists from 78 Russian regions and 55 countries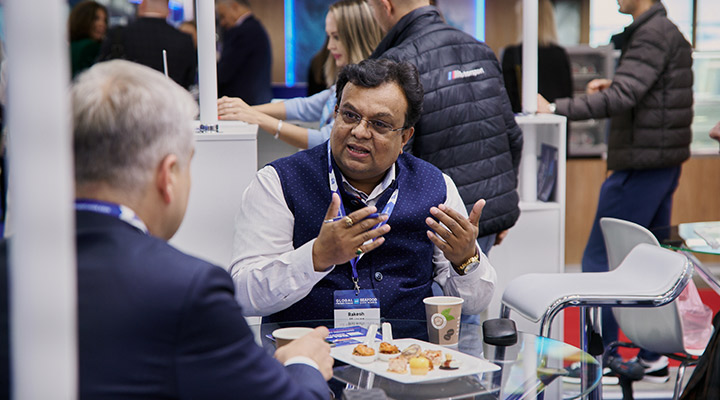 Proficient target audience: 46% of visitors make decisions or influence on them
Visitors' interests based on sectors:
Shipbuilding and ship repair
Refrigeration and freezing
Visitors' aims:
Search for new products or services for business
Obtaining common information about products and services
Visiting business program
Promotion of own products and services
Personal interests
Educational purposes
Odysseya DV company
Vadim Sinyukhin
There were non-stop negotiations and exchange of contacts during all three days of the event. We did not receive such a conversion and amount of interested potential partners even after full year of promotional campaign. The results of participation in the event have exceeded our ambitious plans and expectations in several times!
For us, the exhibition turned out to be very productive, in one day we got as many useful contacts for the development of our company as is hard even for a year!
The Union of Khabarovsk Fishing Cooperatives-Collective Farms "Krayrybakkolkhozsoyuz"
Olga Bulkova, Chairman
Petersburgers took our pavilion into a tight ring, in a few minutes they bought up salmon, flounder, milt, hearts of salmon fish species, canned fish, including the famous seaweed from the coast of the Tatar Strait of the Pacific Ocean.
Trade brands from the Russian central regions and Belarus, who are experienced in high-quality food, became interested in canned food of the Davyd Fuchs Fishing Artel.
We also had negotiations with all well-known federal retail chains.
Lenin Fishing Collective Farm
Ilya Panteleev, Project Team Leader
This is not the first time we have participated in exhibitions of this kind. The forum is quite interesting. Here you can find something interesting for yourself in terms of production, processing of products, take a look at our colleagues, who in the same way produce, process products, and sell them. We got a lot of contacts of those who are interested in the supply of products to the central part of the Russian Federation.
Nautik RUS LLC
Evgeny Voronin, Technical Director
It is a very useful exhibition, we liked it, we were able to communicate with colleagues, see where the industry is going, where it is developing.
Mufty NSK LLC
Oleg Denisov, Deputy Head of the Sales Department
We were pleasantly surprised by this exhibition, because we got a lot of contacts which are necessary for our development. We had many interesting initiations and meetings.
TK Nerei LLC
Andrey Zabuga, General Director
On behalf of the company, we would like to thank the organizers for the opportunity to participate in the large-scale Retail Center project. Communication in the B2B format with representatives of the country's largest retail chains turned out to be interesting, informative and fruitful for us! For our specialists, the two working days in the "Retail Center" were eventful and very comfortable. We express our special gratitude to the organizers for their high professionalism, expert competence and involved approach to business!
The Union of Independent Networks of Russia
Ivan Babukhadze, Director
The Union of Independent Networks of Russia within the framework of the Seafood Expo Russia 2021 took part in the Retail Center project, where it held more than 30 negotiations with suppliers of fish products. Perfectly arranged meeting schedule, organization and convenient format of the meeting space allowed us to plan our time very clearly and left warmest impressions by participation. We will be waiting for an invitation to participate next time.
Leningrad Shipyard PELLA
Anton Antonenko, Head of Marketing
SEAFOOD EXPO RUSSIA is one of the priority events for our company. The exhibition has been showing good results every year. Our shipyard likes the B2B format of the exhibition and the high quality of its organization.
IMMID AQUACULTURE
Alexander Simakin, Operation director
The exhibition was perfectly organized and attracted a lot of target visitors, including the representatives of the fish farms and fishery companies, processors and manufactures of different equipment. Positive and friendly atmosphere contributed to the successful negotiations and fruitful discussions at our stand.
Russian Fishery Company
Andrey Lavrik, Retail development director
Russian Fishery Company retail business benefited from attending Retail Center Project. The Project should be particularly noted for a great number of decision-makers and their 100% involvement into the negotiations. The event was perfectly organized, and a lot of preliminary works had been done. The organizers expressed their sincere concern over giving the attendees the opportunities for holding as many meetings as possible.