Global Fishery Forum & Seafood Expo Russia
September, 27-29, 2023, Saint Petersburg
09/09/2021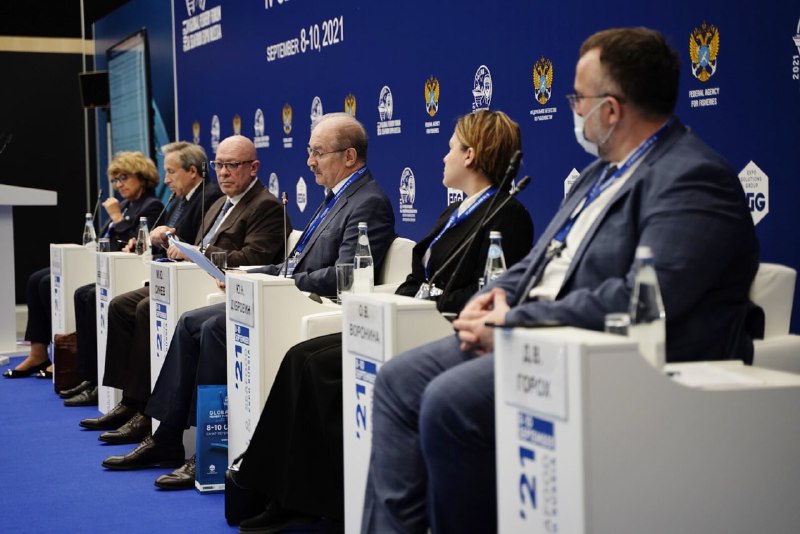 The conference "Development of the Cold Chain for Perishable Food Products" was held as part of the IV Global Fishery Forum & Seafood Expo Russia in St Petersburg.
The participants discussed aspects of ensuring the requisite temperature conditions during delivery of foodstuffs, a set of relevant technical and technological solutions, and ways to implement an integrated approach to establishing an unbroken cold chain.
According to Mikhail Sinyov, President of the Association of Food Sector Organizations (ASORPS), an unbroken cold chain in transportation of perishables currently does not exist at all. The problem stems from a number of factors, the key ones being the inadequate legislation, a lack of uniform standards for warehouses and transport, and of a dedicated infrastructure.
"Refrigerated railway wagons are well over 30 years old, and thermos wagons are also old with a lot of wear and tear", Mikhail Sinyov explained. "Moreover, the wagon fleet has never been inspected for ageing. So when we hand over freight for a 10–20 day journey, we can only guess what it will be carried in." In the road transport sector, he said, only 20–30% of the fleet has been inspected, and perishables are often transported in enclosed, curtain-side bodies. All this entails uncontrollable deterioration: in this situation, the interests of both buyers and suppliers suffer as valuable products worth hundreds of millions of roubles are 'lost'.
Yury Dubrovin, Chairman of the Board of Rossoyuzkholodprom, reported that 20–40% of products were lost through lack of proper storage conditions during both harvesting and fish catching. So, introduction of new refrigeration systems is more than urgent. Yet, at the same time, production of refrigeration systems themselves is not easy – the key elements are manufactured abroad, primarily in China.
Lubov Abramova, Deputy Head of the Department for Food Fish Product Quality at the Russian Federal Research Institute of Fisheries and Oceanography (VNIRO), stressed that "violation of the temperature regime is the most sensitive issue for the fish industry, especially during transportation". "It's a long journey, through different time zones, different temperature regimes. This is unsuitable even for canned food", Abramova said.
Denis Davydov, a senior researcher at NIIAS, proposed developing a comprehensive methodology that would accompany freight "from start to finish". Based on his conclusions, the calculated outside temperature must be determined while keeping track of the load's location. The system would then be able to adjust precisely the atmosphere inside the wagon to the outside climatic conditions. Dmitry Gorokh, Deputy Head of Russian Railways' Centre for Corporate Transport Services, said that transport regulations should include an emergency response mechanism: timely inspection of a wagon if a temperature rises alarm goes off. It was also proposed to strengthen interdepartmental electronic collaboration: "Only by having a single digital environment can monitoring and control be ensured", stressed the Russian Railways representative.
Olga Voronina, Project Manager of the GLONASS Legal Department, spoke about a recent experiment. In June–October 2020, 17 deliveries of perishables were carried out, including multimodal ones, covering a total distance of 145,785 km. They were monitored using integrated ASM ERA systems based on ERA-GLONASS and Mercury. Telemetry was carried out from the time the products were frozen until delivered to retailers. The maximum monitoring time was 32 days and 23 hours along the route from Artyom in Primorsky Territory to St Petersburg. During the control process, 60 events exceeding the specified temperature regime were detected. The total time of deviations along this route reached 19 days.
Despite a lot of irregularities, the system demonstrated its efficiency and relevance, Olga Voronina remarked.
Meanwhile, Sergei Malofeikin, Founder and Managing Partner of Euroservice Group, told about his company, which has been monitoring refrigerators remotely, round the clock, for many years now. There are already 350 'smart' Dixie shops in operation: fridges can be switched on and off remotely and their status monitored. According to Malofeikin, there are enough sensors and software on the market right now to ensure that remote systems work. "The only problem is that there is no unified regulation on how and what to connect to what", the businessman said. Danfoss is successfully implementing a remote monitoring system in Pyatyorochka shops.
Russia also has its own solutions for transporting perishables, said Pavel Ivankin, President of the Transportation and Infrastructure National Research Centre. For example, Omsktransmash, part of the UVZ holding company, offers a 40-foot refrigerated container. Kamaz and Eurosib SPb provide refrigerated containers. Uralvagonzavod and Altaivagonzavod have developed their own solutions for autonomous refrigerated wagons, and this is by no means a complete list. Yet, there is no stable demand for such wagons because of the tariff policy and the investment component, the expert said. In piece version, the wagons are too expensive.
The conference also touched on the issue of personnel training for the refrigeration engineering industry. According to Prof. Igor Baranov DSc (Tech.Sc.), Academician of the International Academy of Refrigeration, Director of the MegaFfaculty of Biotechnology and Low Temperature Systems at ITMO University, the specialty is gaining popularity, with competition of three people per job.
Following the discussion, it was concluded that Russia had all the necessary technology to establish an unbroken cold chain. In this respect, the conference participants proposed that an interdepartmental working group be set up under the Russian Ministry of Agriculture to draft a federal law on an unbroken cold chain, taking into account the best international practices.
Source: Press Office of the Global Fishery Forum & Seafood Expo Russia 2021.