Global Fishery Forum & Seafood Expo Russia
September, 27-29, 2023, Saint Petersburg
12/08/2021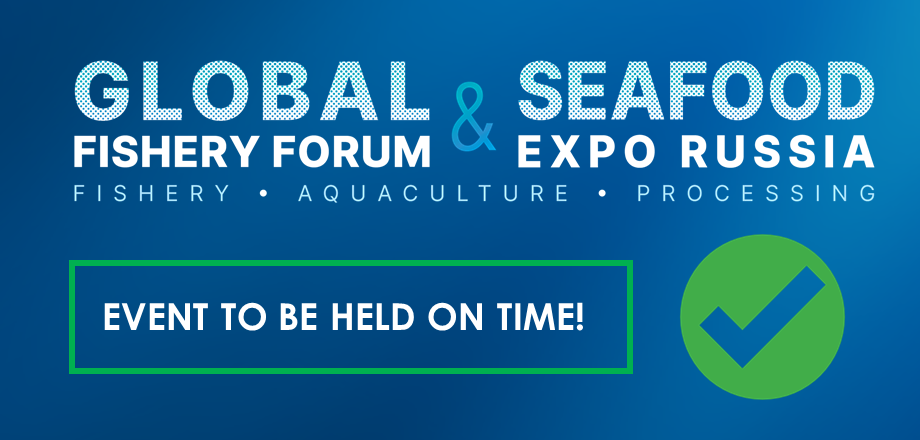 Due to the high socio-economic significance of IV Global Fishery Forum and Seafood Expo Russia 2021, the government of Saint Petersburg approved the event on September 8-10 observing all the necessary safety measures.
"The events are very important for the sustainable development of Russian fishery sector, the preservation and strengthening of interregional and international trade and industrial relations," said the Governor of Saint Petersburg Alexander Beglov in his letter to the organizers.
Within the whole territory of the venue, in the exhibition pavilions and halls of the business program, the recommendations for countering the spread of coronavirus infection prescribed by Rospotrebnadzor and the Government of Saint Petersburg will be strictly observed.
To service the Exhibition and Forum,
The event operator – Expo Solution Group – will primarily involve vaccinated personnel to serve the event. 80% of the company's employees have already been vaccinated.
All categories of the participants will be able to enter the event only having negative Covid-19 PCR analyses results (method of polymerase chain reaction) made no earlier than 72 hours before coming to event or certificate of full vaccination cycle.
Preliminary online registration for the event is required. To get a free ticket please go the event's official website. Visitors and participants previously registered for July 6-8 can use their tickets to enter the event on September 8-10, re-registration is not required.
IV Global Fishery Forum & Seafood Expo Russia 2021 is the largest event in the Russian fishing industry. The event will take place on 8-10 September 2021 at the Expoforum Exhibition and Convention Centre in St. Petersburg. The organizer of the event is the Federal Agency for Fishery with the support of the Ministry of Agriculture of the Russian Federation, the operator is a full-cycle industry exhibition company Expo Solutions Group LLC.
The partners of the event are Rosselkhozbank (General Partner), Sberbank (Partner Bank), Norebo Holding (Business Partner), the FEST Group (Strategic Partner), Sigma Marine Technology (Official Partner), Antey (Registration Area Partner), Oceanrybflot (Business program Partner), United Shipbuilding Corporation (Partner) and Dobroflot (Partner).