Global Fishery Forum & Seafood Expo Russia
September, 21-23, 2022, Saint-Petersburg
15/03/2021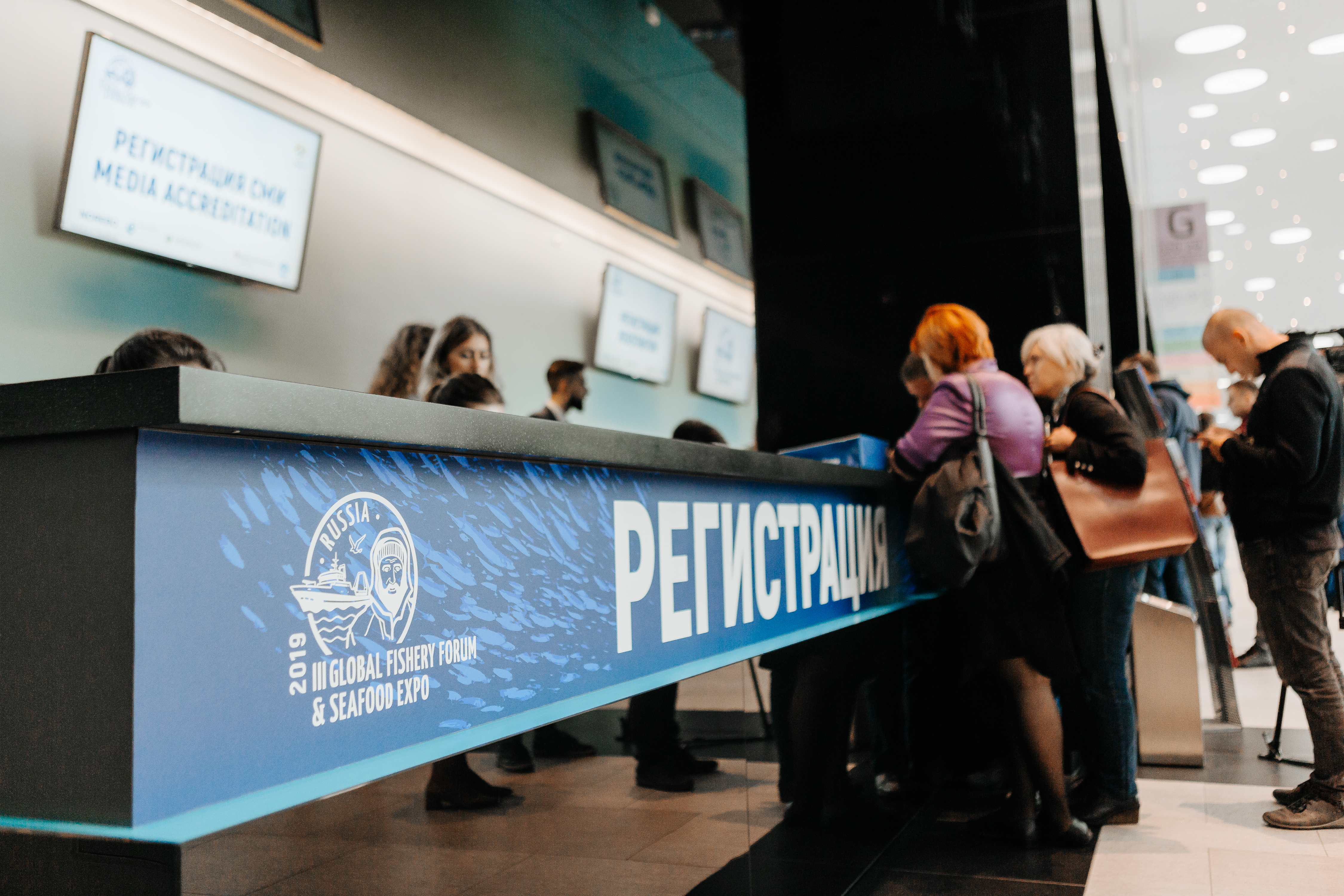 Registration for the largest event of Russian fishery industry - IV GLOBAL FISHERY FORUM & SEAFOOD EXPO RUSSIA 2021 now is open. The event will take place on July 6-8, 2021 in Saint Petersburg at the «Expoforum» Exhibition Center and will be the first industry-oriented event since the beginning of the pandemic.
The access to the event is available for registered visitors only. You can register and get an e-ticket online in the section «Visitors-Get a ticket» or at the registration desk in the lobby of the pavilions G and H of the «Expoforum» Exhibition Center. Visitors, who have registered online, must change their e-ticket for a badge before entering the exhibition halls. Аll registered visitors could attend the event for free. Please learn more about visiting rules here.
The preparation for the GLOBAL FISHERY FORUM & SEAFOOD EXPO RUSSIA 2021 is well under way.The event will be held on time. 80 % of the exhibition space is already reserved. Among the exhibitors will be both Russian and foreign representatives. The leaders of the shipbuilding industry have already confirmed their participation. Among them are USC, Rostr, Remontowa, Damen, Tersan. Also such companies as VNIIR Progress, Furuno, Simrad, STT Marine Service, Mitsubishi Motors, Yanmar, etc. Leading fishing companies will be present: Gidrostroy, Norebo, NBAMR, Russian Fishery Company, Okeanrybflot, Sigma Marin Technology, YKRK, FEST, FOR Group, Arkhangelsk Trawl Fleet, etc. Rosrybflot, Ostrov, Avangard, Alpheus Feeds, Mayekawa, Camozzi, Camellia Seafood /Yunivicta are to exhibit first time.
In 2021 the event will be much bigger and occupy two pavilions amounted in 26,000 m2. A large aquarium will be located in the center of one of them. More than eleven thousands of people are expected to visit the event. All safety measures and recommendation of Rospotrebnadzor (Russia Federal State Agency for Health and Consumer Rights) will be strictly observed.
Global Fishery Forum & Seafood Expo Russia will be one more step to recover the industry. The main aim of the 2021 event is to maximize the potential of the Russian internal market. Special attention will be paid to the normalization of product distribution channels. For that purpose, the exhibition operator will extend Retail Center and organize new purchasing zone "Fish Supermarket".
The business program of the event will include issues of international cooperation, internal development and supporting of the fishing industry. One of the most important topics will be aquaculture as one of the key drivers of the industry's growth. The main focus of business sessions and presentations will be high practical orientation and relevance for a professional audience.